Arkuda Media Network Solution is cross-platform, extendable, plug-in enabled, C/C++ based professional library for developing products and applications.
The Arkuda Media Network library allow manage, control and playback multimedia content on digital electronic devices and retrieving internet video, audio. It is precisely engineered to meet the demands of software applications producers and developers of embedded software for networked devices to ensure compatibility, interoperability with home networks and UPnP/DLNA/Samsung Link devices.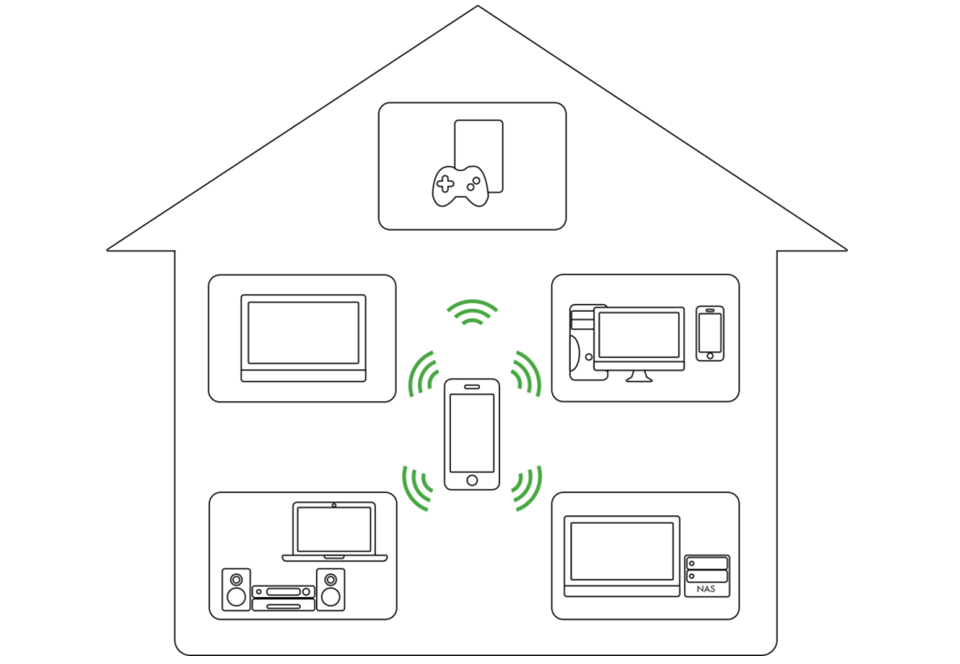 Our library can be used as solution for software companies: application for audio/video products, PCs, set-top boxes, mobile phones: smartphones, iPads, iPods, tablets, iPhones, tablet PCs, IPTVs, manufactures of consumer electronics, digital media centers, digital photo printers, digital cameras, wall mounted TVs, Blu-ray players, Hi-Fi music system, amplifiers, audiophiles, camcorders, MP3 players, game consoles, home theatre systems, stereo speakers, HD TVs, Smart TVs, AV receivers, portable music players, networked loudspeakers, wireless speakers, home cinema sets, audio sets, digital cameras, network attached storages (NAS), car infotainment systems and other digital devices that have the capability to connect to home wireless network.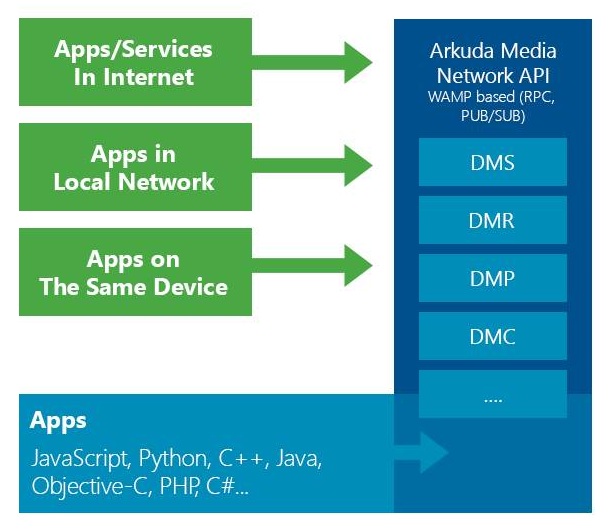 The Media Network Solution is a WAMP microservice based library that provides capabilities for the easy development, integration and customization of Media Network Solutions. It is available for the majority of existing platforms from desktop PCs to embedded systems. It provides sample codes for the main functional elements used in an media network. All modules are individually fully featured and can be utilized both separately and as a part of a custom made software package.
Features
Media Network Device Classes
Digital Media Server (DMS)
Digital Media Player (DMP)
Digital Media Controller (DMC)
Digital Media Renderer (DMR)
Mobile Digital Media Server (M-DMS)
Mobile Digital Media Player (M-DMP)
Mobile Digital Media Controller (M-DMC)
Mobile Digital Media Uploader (M-DMU)
Mobile Digital Media Downloader (M-DMD)
Media Network Device Capabilities
Upload Controller (+UP+)
Download Controller (+DN+)
Volume/sound booster
Push Controller (+PU+)
Media Formats
Supported by DMS
Image (JPEG, BMP, PNG, TIFF)
Audio (MP3, WAVE, AAC, AC-3, LPCM, AMR, WMA, MPEG4)
Video (AVI, MPEG2-PS, MPEG2-TS, MPEG4, H.264, WMV, GP, ASF, MP4, MKV, MPG/MPEG, TS, M2TS, 3GP, VOB, FLV, MOV, M4V)
Supported by DMP
Image (JPEG, BMP, PNG, GIF, TIFF)
Audio (MP3, WAVE, AAC, AC-3, WMA, MPEG4)
Video (AVI, MPEG2-PS, MPEG2-TS, MPEG4, H.264, WMV, GP, ASF, MP4, MKV, MPG/MPEG, TS, M2TS, 3GP, VOB, FLV, MOV, M4V)
Subsystems
Media Transport
Platforms
iOS
Android
Windows
Linux
MacOS
QNX
Contact Arkuda Digital
to discuss how our experience can help you!
Available for download:

Media Network Solutions presentation 2016