Discover audio files stored on any compatible device on your home network, and stream, share or playback to any connected speaker, audio system. Includes an attractive mobile UI.
For the audio industry, wireless concepts are getting more and more interesting with the development of technologies, because this guarantees reliable and high quality audio streaming throughout a Wi-Fi/Ethernet home network. New audio concepts have been introduced where independent speakers are connected to the network but controlled through a central management system. End users can now find audio files stored on any UPnP/DLNA/Samsung Link compatible storage on the network and playback to any speaker system.
For high-end systems control may be through a dedicated system controller, but increasingly all such networked systems are relying on the user's' mobile devices to act as portable remote controllers.
Audio network to collect audio files from digital storages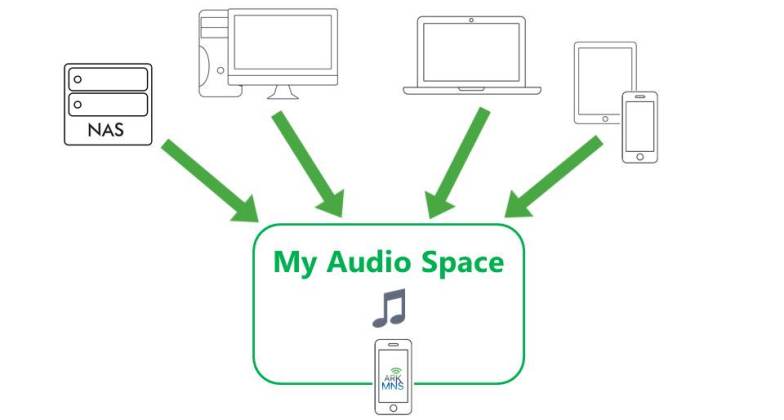 Stream music from different sources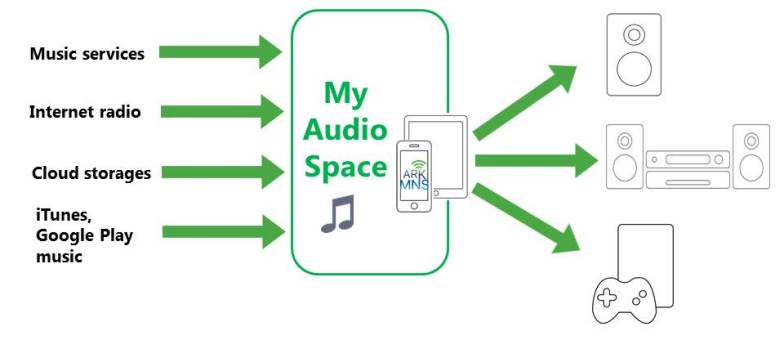 Simultaneous audio playback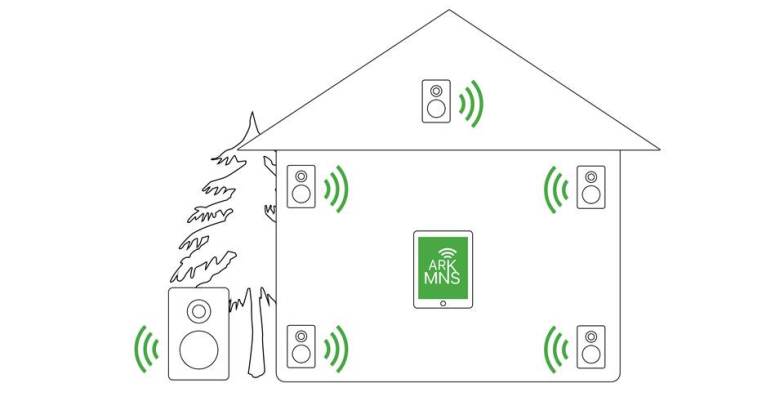 Connect Old Hi-Fi via old Mobile Phone (Renderer)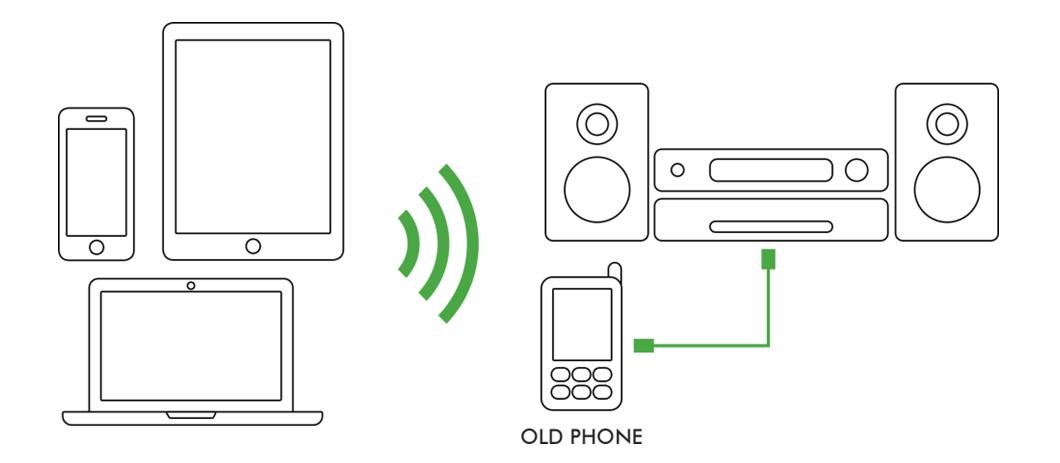 Connect old Wi-Fi-enabled phone to non-networked Hi-Fi input (using wired connection)
Select Server
Choose music
Find "old phone"
Playback music on Hi-Fi
Multitasking
Benefits
Arkuda offers OEM & ODM manufacturers the
Media Network Solution
to develop both new and existing audio UPnP/DLNA/Samsung Link products.
The innovative architecture of Arkuda's media network solutions offers the best environment to integrate the technology into new products. Arkuda can offer development services & project management for audio systems beyond the core media network products.
Using Media network API, Arkuda has already developed the MyAudioStream application which is available for end-user purchase in the App Store and Google Play market. We can license the complete MyAudioStream app, re-skinned to your brand requirements.
v For simultaneous playback on networked loudspeakers, Arkuda can integrate a P2P software module, where we use multicast technology. Each device needs to install both DMR and DMS. With this solution, latency cannot be detected by the end user.
Compatibility with Airplay is only permissible if the OEM or ODM has licensed the technology from Apple. Arkuda has done a technical study on how to integrate with Apple iTunes, and can provide a project proposal on request.
Contact Us
to know more about how Arkuda Digital can help you!
Features
Makes itself available for discovery and control in a home network
Plays audio streams from a digital media server (DMS)
Supports Chromecast
Handles commands from remote UPnP/DLNA/Samsung Link devices such as "pause", "seek", "change volume" etc
Reports "track duration", "current position" etc. from and to remote UPnP/DLNA/Samsung Link devices
Windows Media Player "Play-to" support
Supports internet radio
Supports Multiple playback and Multitasking
Support audio "Follow me" audio feature
Playback audio on PC`s/MACs, set-top boxes, smartphones, tablets, digital media centers, wireless speakers, home cinema sets, audio sets, volume/sound booster, TVs, HD TVs, Smart TVs, AV receivers, remote speakers, portable music players, other wireless audio devices.
Available for download:

Arkuda Concert presentation 2016